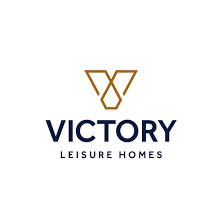 Victory Leisure Homes
Stand information: HP1040
| Resort features
| Business support
| Alternative accommodation
| Construction and building solutions and supplies
We know that holiday homes can be better. We get up every day to make that a reality. That's the Victory Way.
Based in Yorkshire, we've been crafting holiday homes and lodges for over a decade, creating inspiring spaces for holidaymakers across the UK and Ireland. Innovation is at the core of what we do and our customers are at the heart of our design process.
We're excited to be showcasing our first concept for a new era of holiday homes - Evolution by Victory. Ten solar panels are built into the roof, which generate enough power to save over £1,000 a year on energy bills per unit, while an integrated wastewater heat recovery system saves so much water, that one in every three showers could be free – and this just scratches the surface.
We're also showcasing our brand-new Lumiere, a luxury one bedroom (can be a 4-berth) couples retreat, which has been designed to reinvent the 'glamping' scene across farms and holiday parks. With a large freestanding bath in the bedroom, a kitchen/dining area, large L-shaped sofa and an outdoor terrace, your guests will holiday in luxury and return time and time again.

Come say hello to us on stand HP1040 in Hall 19 and experience the future of holiday home manufacturing as well as our luxurious couple's retreat.